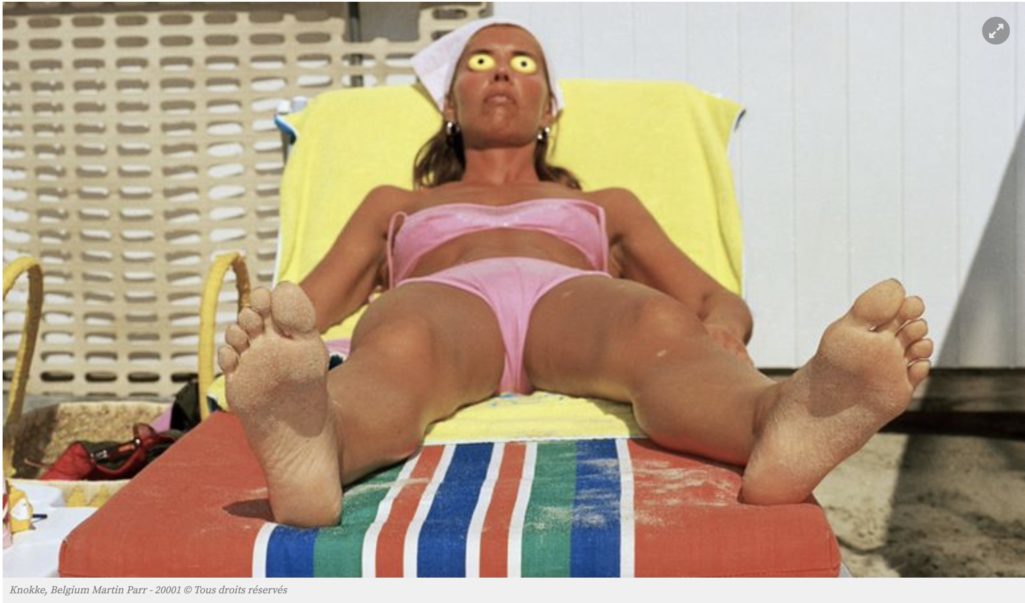 Het is heel uitzonderlijk dat ik vijf hartjes geef voor een tentoonstelling. Maar deze eerste tentoonstelling in België van Martin Parr in Hangar – het Brusselse fotografisch centrum – overtreft al mijn verwachtingen: organisatie, 'accrochage', commentaar en uiteraard het werk van Martin Parr. Al 45 jaar confronteert deze Engelse fotograaf ons met een portret vol ironie van onze wereld en zijn ijdelheid, kitsch, middelmatigheid, verspilling, junkfood, snobisme, massatoerisme enz. Het geniale van Martin Parr is dat men niet te maken heeft met gevoelloos sarcasme of een meedogenloze blik. Het is veeleer een tedere ironie en subtiele speelsheid zoals alleen de Britten dat kunnen. Herinner U dat Britse humor nooit ten koste van anderen gaat. Mijlenver van onze humor. Martin Parr portretteert onze tijd doorheen alle lagen van de (hoofdzakelijk Britse) samenleving: van de arbeidersklasse met haar dromen van de consumptiemaatschappij tot de klasse van de nieuwe rijken en hun ondraaglijke bling bling. Zelfs de Queen krijgt er 'subtiel 'van langs. 400 foto's in 15 series -waaronder één in Knokke-. Meer dan de moeite waard!
Tip : aan de overkant is er een prachtige tentoonstelling van Ever Meulen bij Huberty & Breyne tot 9 act.
Il est exceptionnel que je donne cinq cœurs pour une exposition. Celle de cette première exposition en Belgique de Martin Parr à Hangar- le centre photographique bruxellois- dépasse cependant toutes mes attentes : organisation du lieu, accrochage, commentaires et surtout le travail de Martin Parr. Depuis 45 ans ce photographe anglais nous confronte avec un portrait plein d'ironie de notre monde en mal d'être, fait de vanité, kitsch, médiocrité, gaspillage, mal- bouffe, snobisme, tourisme de masse etc. Le génie de Martin Parr est qu'au lieu de poser un regard sarcastique et cruel il réussit à dire les choses avec une tendre ironie, avec dérision, espièglerie et une certaine distance comme seuls les Anglais peuvent le faire. Il faut rappeler cette particularité de l'humour anglais qui est de ne jamais rire aux dépens de l'autre. On n'est pas au pays de Coluche…Il fait le portrait de notre temps à travers toutes les couches de la société : de la classe ouvrière avec ses rêves consuméristes à la classe de nouveaux riches et leur insupportable bling bling. Même la Queen en prend subtilement pour son grade.400 images en 15 séries – dont une sur Knokke-Le Zoute – à voir absolument.

Petit conseil: jusqu'au 9 octobre prochain vous pouvez découvrir dans la galerie Huberty & Breyne les nombreux dessins qu'Ever Meulen a consacrés à sa ville, Bruxelles. C'est juste en face.
Hangar is delighted to present the first retrospective in Belgium of the English photographer, Martin Parr (°1952). This exhibition retraces forty years of the artist's career through 15 symbolic series. Over 400 colourful and quirky images, filled with fun and irony, are displayed across the three floors of the Hangar art centre.
A modern-day satirist, Martin Parr is considered one of the most important representatives of contemporary documentary photography and is hailed as one of the most famous photographers in the world. As a "chronicler of our time" (so says Thomas Weski), he scans the world with his mischievous gaze, producing unusual images, often exaggerated or grotesque, in garish colours.
Associated with quintessentially English humour, he photographs Western society – sometimes ruthlessly – shaped as it is by mass consumption, an unpredictable economy and a dysfunctional political backdrop.In addition to works from celebrated series such as The Last Resort, Think of England, Luxury and Common Sense, the exhibition also includes his early series: Bad Weather and Non Conformists.
Hangar ; 18 Place du Châtelain
Monday Closed
Tuesday 12:00 — 18:00
Wednesday 12:00 — 18:00
Thursday 12:00 — 18:00
Friday 12:00 — 18:00
Saturday 12:00 — 18:00
Sunday Closed
tickets 7 €